OMEGA Releases Its New Industry-Leading USB Infrared Pyrometers
Available with field-of-views of 15:1, 25:1, 75:1 or Close Focus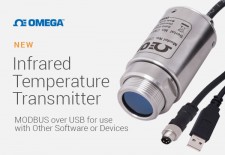 NORWALK, Conn., July 12, 2019 (Newswire.com) - The OS1511A-2USB series of USB infrared pyrometers measure temperatures from 113-degrees F to 3,632-degrees F (45-degrees C to 2,000-degrees C) accurately and consistently. These pyrometers are ideal for ferrous metals and have an outstanding response time of 200 ms. The sensor will operate with the four to 20 mA cable connected, the USB cable connected or both. No external power supply is required when using just the USB output.
"The OS151A-2USB-LT series is our new and improved industry-leading infrared transmitter, with a great temperature range, soft-wavelength measurement and choice of field-of-views (15:1, 25:1, 75:1 or Close Focus). No other small infrared pyrometer can compete with this well-built sensor," says Ahmar Bajwa, Director of Product Management for Temperature Products.
"The free OmegaConfig software is simple to use and has real-time display, which will give you chart data and CSV text file logging of measured values via the USB cable supplied. User configuration settings include four to 20 mA output scale, emissivity, averaging, peak/valley and reflected energy compensation."
OS151A Series Features:
• USB Connectivity​
• Emissivity: 0.1 to 1.0
• Temperature Range: 113-degrees F to 3632-degrees F (45-degrees C to 2000-degrees C)
• Thread Size: M20 x 1 mm (0.04-inch) pitch
• Field of View: 15:1, 30:1 or Close Focus
• 4 to 20 mA Output
OMEGA™ is an established global leader in the technical marketplace, offering more than 100,000 state-of-the-art products for measurement and control of temperature, humidity, pressure, strain, force, flow, level, pH and conductivity. OMEGA also provides customers with a complete line of data acquisition, electric heating and custom engineered products.
Source: OMEGA Engineering Inc.
Share:
---
Categories: Business to Consumer
Tags: b2c, digital commerce, digital marketing, e-commerce, process measurement
---
Omega Engineering
800 Connecticut Ave (5N01)
Norwalk, CT 06854
United States