OMEGA is Now Stocking ClipX Industrial DIN-Rail Signal Conditioners
Easy to configure DIN Rail solution with "Clip" installation.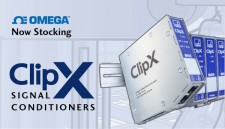 NORWALK, Conn., September 16, 2019 (Newswire.com) - OMEGA is now carrying ClipX signal conditioners, manufactured by sister Company HBM. With an accuracy class of 0.01 and included digital working standard calibration certificate, ClipX is setting new standards in industrial process control. The module adapts to any measurement task, regardless of whether it is used with single- or multiple-channel applications, manufacturing machines, or production monitoring.
ClipX allows for easy implementation of any number of individual, stand-alone measurement chains or measurement systems, with up to 6 devices that can communicate with each other. The signal conditioner provides all the latest automation interfaces to integrate the device into comprehensive, digital control concepts (PROFINET, PROFIBUS, Ethernet/IP™, EtherCAT®, current, and voltage).
"One of the shining features of ClipX is its intuitive web interface which makes it incredibly easy to perform operations remotely, change parameters, and diagnose anomalies; this can be done from any browser-based device – even a cell phone. Another great ClipX attribute is that it can reduce the likelihood of machine downtime because it is self-monitoring and able to detect faults early-on with its Smart Functions that include health monitoring, remote diagnosis, and pre-calculated channels." – Autumn Hill, Product Manager for Omega Pressure & Force.
"This is a great product that integrates seamlessly for interference-proof measurements with Omega's load cells, pressure transducers, force sensors, torque sensors, and our other products with standardized current or voltage output signals."​
OMEGA™ is an established global leader in the technical marketplace, offering more than 100,000 state-of-the-art products for measurement and control of temperature, humidity, pressure, strain, force, flow, level, pH and conductivity. OMEGA also provides customers with a complete line of data acquisition, electric heating and custom engineered products.
Source: OMEGA Engineering Inc.
Share:
---
Categories: Business to Consumer
Tags: b2c, digital commerce, digital marketing, e-commerce, process measurement
---
Omega Engineering
800 Connecticut Ave (5N01)
Norwalk, CT 06854
United States