OMEGA Introduces XW Series Smart Transmitter Family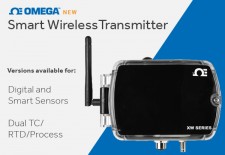 NORWALK, Conn., December 2, 2019 (Newswire.com) - ​​The rugged, high-performance, long-range OMEGA® XW Series wireless sensor/transmitter system provides seamless connectivity across OMEGA's extensive catalog of sensors. These wireless devices are designed for demanding industrial applications indoors and harsh outdoor environments. The electronics are protected in a rugged weatherproof NEMA 4 (IP65)-rated housing and are a snap to set up using a standard USB cable in conjunction with free SYNC configuration software. A wide variety of compatible probes and sensors mate quickly and easily with robust M12 connectors.
The XW series provides options for compatibility with both digital and analog sensor types. The XW-ED accepts a wide variety of smart digital probes and accommodates pulse and process inputs. The XW-EDA model supports a wide range of thermocouples, RTD's, and precision process inputs. "Pro" versions feature two additional configurable discrete Inputs/Outputs, which enable true edge control capability. The product can be configured to use local sensor data to provide closed-loop control to local equipment, as well as sounding alarms or monitoring door switches.
"I am pleased that we have created a high-performance wireless platform that supports more than 80% of Omega's sensor portfolio including our extensive line of thermocouples and RTDs. These products are ideal for both new sensor installations and adding IIoT connectivity to existing ones," says Peter Schwartz, Senior Product Manager-IIoT.
The XW series is ideal for use in applications such as mining, asphalt/cement, agriculture, cold storage, industrial manufacturing, validation testing, asset monitoring, environmental monitoring, and process control.
XW Smart Transmitter Family Features:
· Wireless communication up to 1000 m (3280') outdoor and 100 m (328') indoor
· Wide range of measurement types (Thermocouple, RTD, 4-20 mA, 0-10V, mV, Frequency, Counters, Pulse-Width, and Smart Probes)
· Discrete I/O for local control and alarms (Pro versions)
· Data assurance and logging up to 4096 readings per measurement
· Direct USB configuration for easy set-up
· IP65 with long battery life (up to five years)
· External power adapter available
OMEGA™ is an established global leader in the technical marketplace, offering more than 100,000 state-of-the-art products for measurement and control of temperature, humidity, pressure, strain, force, flow, level, pH and conductivity. OMEGA also provides customers with a complete line of data acquisition, electric heating, and custom engineered products.
Source: OMEGA Engineering Inc.
Share:
---
Categories: Business to Consumer
Tags: b2c, e-commerce, infrared, process measurement, Temperature
---
Omega Engineering
800 Connecticut Ave (5N01)
Norwalk, CT 06854
United States