Omega Engineering Featured as 'Best Practice Representative' in the Parliamentary Review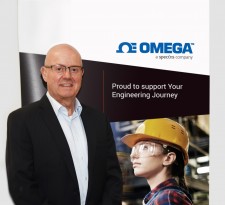 NORWALK, Conn., December 19, 2019 (Newswire.com) - Omega Engineering was recently highlighted as a Best Practice Representative 2019 in The Parliamentary Review. The article, which included an interview with David Tipton, Vice President and Managing Director EMEA & APAC for Omega Engineering, focused on the company's best practices, which have allowed Omega to enjoy double-digit growth and expand from a single product line of thermocouples to over 100,000 state-of-the-art products that measure and control a variety of metrics.
With upwards of a half-million readers, The Parliamentary Review is a British publication that shares best practices amongst policymakers and business leaders. Each edition focuses on a specific sector, such as manufacturing, healthcare, transport, technology and more. Notable politicians and senior figures lend their perspective and insight as related to the relevant industry.
David Tipton is also Vice President of the Institute of Measurement and Control and tells The Parliamentary Review about Omega's expansion into e-commerce and their support for projects that encourage the next generation of engineers to enter the sector.
Also noted in the interview is that Omega has been resilient and successful by future-proofing itself through investments in a new e-commerce platform and customer relationship tools that make it easier for customers to access their vast learning resources and product offerings.
"Our brand is recognized as a standard of excellence across the industry," said Tipton. "We pride ourselves on this customer focus, restless innovation and high performance. With these markers in place, we are able to work as one unit: sales, marketing, operations and finance, all working together to achieve the same goals."
There is also a focus on Omega's adaptability to weather the economic forces around Brexit, noting that "our strong customer base and large product portfolio have meant that we have not been affected as much as others. This breadth of both products and clients enables us to withstand temporary economic difficulties."
Looking forward, Tipton noted that while Omega has kept pace with the industry's move into a digital-first era, it was not the company's only focus. "We're looking to build more than just an e-commerce business," he said. "Through our belief in STEM learning, we're looking to bring together engineers from all over the world to help a greater initiative: to share sensing, monitoring and control expertise with the world, connecting challenges to solutions."
To read The Parliamentary Review article in its entirety, visit here.
Source: OMEGA Engineering Inc.
Share:
---
Categories: Production and Manufacturing
Tags: b2c, digital commerce, digital marketing, e-commerce, process measurement
---
Omega Engineering
800 Connecticut Ave (5N01)
Norwalk, CT 06854
United States