OMEGA Engineering Announces Release of Its Newest Digital Pressure Gauge
The DPG509 Series Offers Configurable Options with Short Lead Times and Fast Delivery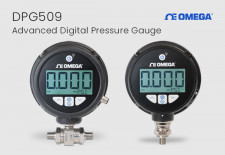 NORWALK, Conn., December 8, 2022 (Newswire.com) - With the DPG509, OMEGA's newest series of digital pressure gauges, OMEGA has created a next-generation product designed with maximum functionality and usability in mind.
"The DPG509 configurator has over 40,000 finished good possibilities," says Autumn Edwards, Products Manager - Pressure and Force at OMEGA ENGINEERING. "Because we know that you need a product as unique as your application."
This digital pressure gauge features a user-friendly interface with four clearly labeled buttons and a large 4-digit backlit display. The full-scale accuracy this product offers is as high as 0.08% - which is perfect for applications where accuracy is critical - and, in addition, 0.25% accuracy is available for those times when a reliable, easy-to-use gauge is most important.
The DPG509 technology builds upon a proven diffused silicon piezoresistive sensor to create an efficient digital platform that maintains high accuracy, improves temperature stability, and enables compensation in both the positive and negative pressure direction.
Another powerful feature is the data logging option. Log important data as fast as four readings per second so that nothing is missed - and data analysis is straightforward with an included SD card that is easily accessible for data retrieval. All options are built with thermoplastic housing featuring an IP65 rating for durability in harsh environments. A protective rubber boot is also an option for additional protection.
The DPG509 series is highly configurable. As a leader in the design and manufacturing of innovative pressure measurement and control products, OMEGA offers configurable options for the DPG509. "Our goal is for the DPG509 to fit any application," Edwards points out. "Including hydraulics and pneumatics, pumps and compressors, fluid management, level indication, filter monitoring, automation, and testing."
Omega also offers an online configurator for convenience when ordering.
The DPG509 has been designed for incredibly short lead times and fast delivery, and a configured DPG509 is typically delivered within two weeks.
About OMEGA:
Founded in 1962 to manufacture a single thermocouple line, OMEGA has grown into a leading international, integrated, single-source supplier of highly engineered products and customized solutions for the industrial processing, aerospace, chemical and petrochemical, medical and pharmaceutical, and food and beverage markets. With over 700 employees, operations at OMEGA include research and development, engineering and manufacturing, calibration, sales, marketing, distribution, expert technical support, and customer service. OMEGA designs and manufactures more than 100,000 state-of-the-art, innovative products for the measurement and control of temperature, humidity, pressure, strain, force, flow, level, pH, and conductivity.
Source: Omega Engineering
Share:
---
Categories: Production and Manufacturing
Tags: any application, configurable, data analysis, data logging, digital pressure gauge, easy-to-use, engineering, fast delivery, gauge, IP65 rated, pressure, short lead time, two week delivery
---
Omega Engineering
800 Connecticut Ave (5N01)
Norwalk, CT 06854
United States