Omega Announces the Release of Its Smallest S-Beam Load Cell Yet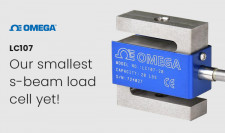 NORWALK, Conn., July 7, 2021 (Newswire.com) - With measurements of only 1.25" x 0.5" x 1.1", the LC107 Series Miniature S-Beam Load Cell is shorter than a paper clip and is Omega's smallest s-beam load cell to date. Compact and lightweight, these miniature s-beam load cells are designed to measure ultra-low tension and compression forces without sacrificing accuracy.
While linearity is often the trade-off made in exchange for the small size of miniature load cells, the LC107 series has a high linearity of 0.1% even at the lowest 10lb capacity - and even smaller models are coming soon. They are temperature compensated and NIST calibrated in tension for superior performance and, with a 300% overload protection and a stainless-steel construction, the LC107 series is durable, anti-corrosive, and built to perform in even the most rugged of environments.
Developed in-house by Omega engineers, the LC107 series miniature s-beam load cell is well suited for space-constrained areas requiring high accuracy. Potential applications include scales, other weigh assemblies, assembly machinery, packaging machinery, test equipment, feedback for machine control, and many more.
OMEGA is an established global leader in the technical marketplace, offering more than 100,000 state-of-the-art products for measurement and control of temperature, humidity, pressure, strain, force, flow, level, pH, and conductivity. OMEGA also provides customers with a complete line of data acquisition, electric heating, and custom engineered products.
Source: Omega Engineering, Inc.
Share:
---
Categories: Production and Manufacturing
Tags: machine control, packaging machinery, scales, test equipment, weigh assemblies
---
Omega Engineering
800 Connecticut Ave (5N01)
Norwalk, CT 06854
United States